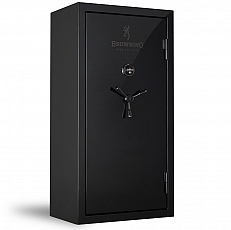 BROWNING PROSTEEL SPORTER GUN SAFE
CERTIFIED SECURITY
Why settle for a mere gun cabinet or locker to protect valuables when the Sporter Series offers UL tool attack certification for just a little more? Sporter safes are packed with tough-to-beat security and fire protection features. Proven gun safe security and added convenience are yours with a Sporter safe. Stepping up to the Sporter Series gives the piece of mind that the UL RSC (Residential Security Container) Rating against tool attack provides. A versatile DPX Storage System adds value and convenience.
WHY CHOOSE A SPORTER SAFE?
Sporter safes offer the quality, security and fire protection features expected from a Browning ProSteel gun safe at a price that is next to impossible to beat. A heavy 12-gauge steel body and rigid 1″ thick formed door with a Force Deflector Lock System. 2015 models include a 1400F/60 minute fire protection rating for additional peace of mind. The Cantilevered Modular interior and DPX door storage provide the most versatile interior found in a safe at this price – and above.
THERMABLOCK FIRE PROTECTION
New ThermaBlock Fire Protection- Exclusive to Browning ProSteel Safes, uses thicker material and an interlocking design to provide optimal protection for your valuables. ThermaBlock combined with our external hinge design, eliminates gaps where heat from a fire can enter the safe and damage your prized possessions. The thickness of steel used in the body is vital. Heavier gauge steel flexes less when heated, limiting distortion that lets heat in through gaps in broken welds and around the door frame.
Speaking of welds, Browning ProSteel continuously weld every seam – not spot weld like some of the competition for added resistance to heat-related flex. Even the door hinge design matters. All of these little touches add up to big gains in fire and heat resistance and go a long way towards protecting your most valuable possessions. When heat builds and flames roar, ThermaBlock ensures that your valuables are well protected.
CANTILEVERED MODULAR SHELVING
Quickly and easily adjust the shelving to meet individual storage needs. Barrel racks can be adjusted at various heights to accommodate long guns, as well as shorter carbine modules. The cantilevered design eliminates the need for a vertical shelf support to add extra interior space.
QUICK ACCESS RACK
Flexible polymer wings secure the barrel and allow firearms to easily be pushed into or pulled from the rack.